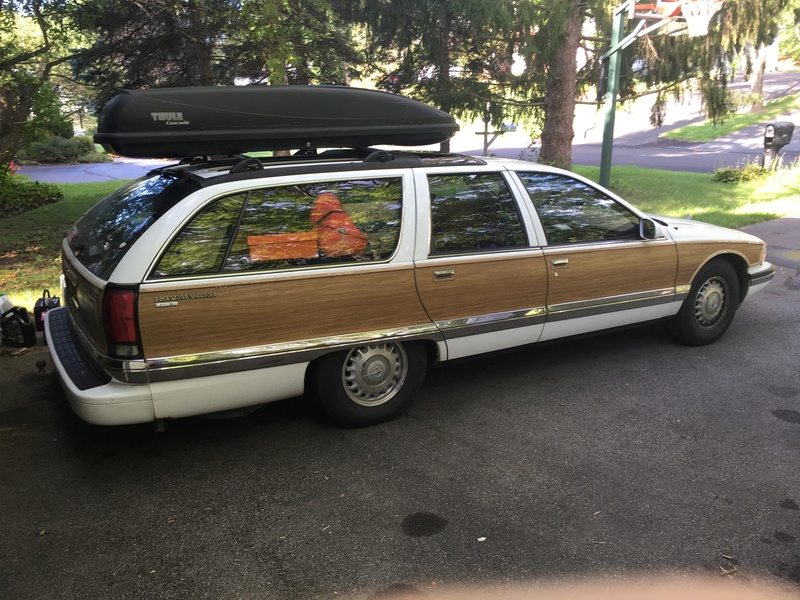 I bought this wagon in the beginning of July and it was in really good mechanical condition. Confident, I loaded it up with an entire apartment's worth of stuff and drove it 600 miles to school. However, as soon as I merged onto the highway, the transmission refused to upshift to 3rd or 4th. Thank the lord for the 4l60e's gearing because I was able to go about 65 mph in 2nd without breaking 4000 rpm. I drove it sparingly at school with the bad trans and last friday it somehow made the 600 mile trip back to Niskayuna, NY (15-20 min northwest of Albany) where it is currently garaged. I had a scangauge plugged in and the engine temp stayed at exactly 195 for almost 10 hours straight. No coolant lost either. Basically, this wagon is well-maintained and cosmetically decent enough that putting in another trans would be worth it for the buyer.
Current mileage is 174,500. It is white/woodgrain with red cloth seats. They are the Limited upgraded seats with lumbar and all power adjustments work. I have a huge stack of records dating back to the early 2000s documenting consistent full synthetic oil changes, cooling system work, recent optispark replacement and a full overhaul of the air conditioning. Car top carrier not included.
It was owned by an old lady until 2015 when it was purchased by a local restoration shop that used it as a crew vehicle/parts hauler. I believe I am the third owner. The manager of the shop told me they rebuilt the rear axle and limited slip hardware in-house earlier this year. They put it on the lift for me and the frame was clean. Most of the front-end bushings looked reasonably fresh as well.
I am selling this car because I need something smaller with better gas mileage. For that reason I'm also selling my 1992 Jeep Cherokee Briarwood with loads of $$ invested if any of you guys are into XJs. Two 20+ year old wood-paneled gas guzzlers are not what I need to be spending time and money on right now. You will be able to see both cars on Albany CL in the next day or two and I'd entertain a partial/full trade for one or both. Car in trade must have a stick shift and smoke-free interior. I would really like this wagon to go to an enthusiast on here.
Good Stuff:
LT1 runs awesome, leaks very little oil (add about 1 quart between changes)
Tow package with gran touring suspension
Stock and unmolested
Smoke-free
Clean interior, all electronics work
Still have both original keys and fobs
Beautifully working air conditioning and heat
Comprehensive service history
Not throwing any codes
4 new tires in August
Valid NY inspection until July 2017
Problems:
Trans with no 3rd or 4th gear, still drivable if you can live with 14 mpg
Broken into on driver door, paint chipped and window frame bent a little
Driver door panel has typical cracking
Driver's side rear door window has common slider problem
Minor rust on the lower quarter/spare tire area
Work done under my ownership:
At 170k: Full synthetic oil change
At 171k: Brand new Uniroyal Cross Country Laredo All Season Tires, 235/70R15s ($500 set)
At 173k: Replaced driver door window and lubed track
At 174k: Brand new starter ($180 in parts)
Will do another oil change this weekend
Looking for $800
I will be back and forth between Niskayuna and Woodstock this Saturday 11/19 until Saturday 11/26 if anyone wants to take a look. Beyond that, I'm back December 15th- second week of January.
[url=https://servimg.com/view/19538966/3][img]