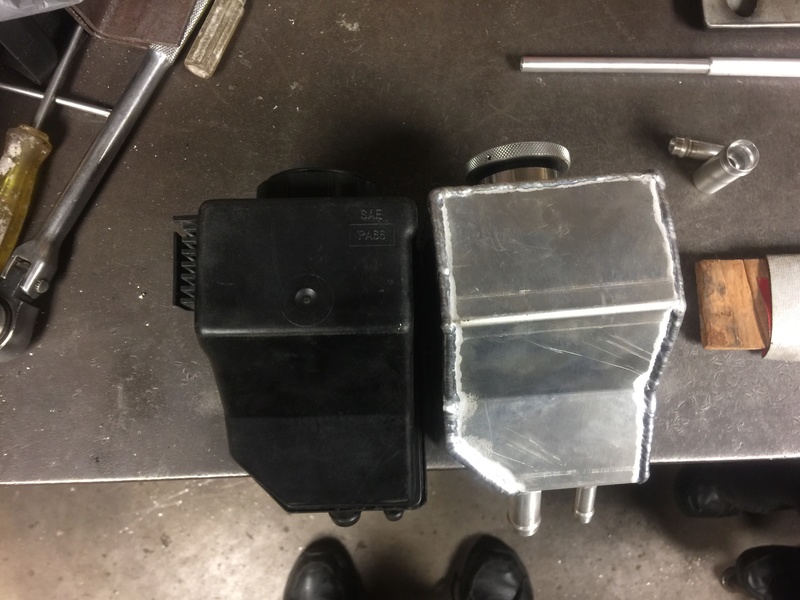 Have a local guy make these up.  Shooting for a $130-150 price tag.  LMK if you are interested.
EDIT:  This is a stock replacement PS tank for a B-body LT1 car.  It will have an attachment that will be a direct fit into your factory mount.
Power steering tanks. So not ready yet to sell, but getting idea's of who might be interested in these.
Our tanks are getting old and I have had several folks have them crack. This would allow a direct replacement and can be polished, powdercoated, painted, etc. They will initially offered as a group purchase raw or possibly polished if there is the interest. This is a first tank and will have a vent hole and dipstick just as the factory one does. They will also drop into the factory bracket. I will post more when I have one completed and on my car.
Please let me know if you are interested.
Not sure of a final price just yet but shooting for $130-150 raw.
9/5/17 update - I am working with my welder/fabricator.  It looks like we are going to add baffles and change around how the return line comes into the tank to reduce foaming issues.  Working on this in our free time so please be patients.  Hoping this does not increase our original target price, but it must work well not just look good.  More to come.