Well it looks like I get the nod for March.
To start off, maybe some background is in order. I have three basic requirements for my daily driver.
1. Due to my size (anyone who says we stop growing in our teens is lying. Growth just changes direction) and personal preference, I love big American cars.
2. My business dictates that I log 20 - 30 thousand miles a year, mostly on the highway.
3. My wife and I are avid campers and travel extensively up and down the Eastern Seaboard with our travel trailer firmly attached to the car.
Fuel mileage has always been an obsession with me (basically I'm cheap) which left me with the quandry of either getting used to little cars, or to figure out how to get my "Yankee Tanks" to get respectable mileage. Obviously I opted for the latter.
None of the European diesel offerings appealed to me, the VWs were too small and the Mercedes were underpowered and expensive. Enter my first foray into automotive diesels...a 1981 Caprice wagon with a 5.7 liter diesel. Sorry no picts (digital cameras weren't even dreamed of then). Basically a great car, giving me up to 40 MPG (IMP) at 70 MPH. Problem was, it had absolutely no power. Pulling our pop-up turned it from a respectable car into a road obstruction. I now had a challange on my hands. Lets build some power into this thing. Try as I might either I could get power out of it or I could get reliability. Never both. End of the line for this engine was an 86 Caddy Fleetwood with a goodwrench 5.7, high volume injection pump, studded heads and dual exhaust. Worked great as a DD but was downright embarassing with the trailer out back.
In 89, we bought a GMC pickup for my brother with the 6.2 and we were back in the game. By 02 we were looking for a suitable vehicle to do the conversion. Having researched all of the body on frame offerings, we decided the "B" bodies met most of the requirements. As a result, I purchased my first RMW. A 1991, burgandy with red guts, that had been used as a school bus for disabled kids. 750,000 KM (472,000 mi) and suffering badly from Rust Belt cancer. Still don't know how I got it through a safety check but it went another 20,000 mi before major structural damage forced it off the road.
During the summer of 03, I found a white (tan guts) RMW on Ebay from Florida, being sold by a dealer in New Hampshire. Finally settled on $1,300 (parking lot damage and bad wood) and then took a family camping trip to pick it up. When we got there we discovered he had another one (blue on tan) in much better shape for $1,800. Long story short, we ended up with both of them. Used to have a great set of picts of the caravan consisting of the old Burgandy one pulling the trailer and the two new ones following but can't seem to find them (HD crash?).
Upon our return, stripped off all the useable parts of the original wagon and sold the balance to a local guy who had a Caprice. Drove the white one for over a year and gave the blue one to my sister in law as her DD. In the Fall of 04, we finally got around to doing the original conversion. As the white RMW, at the time, needed more body work, our thoughts were that we experiment with it as opposed to hacking up the blue one. We had not idea, our original attempt would last as long as it has.
First we stripped off the wood to expose the body work needed: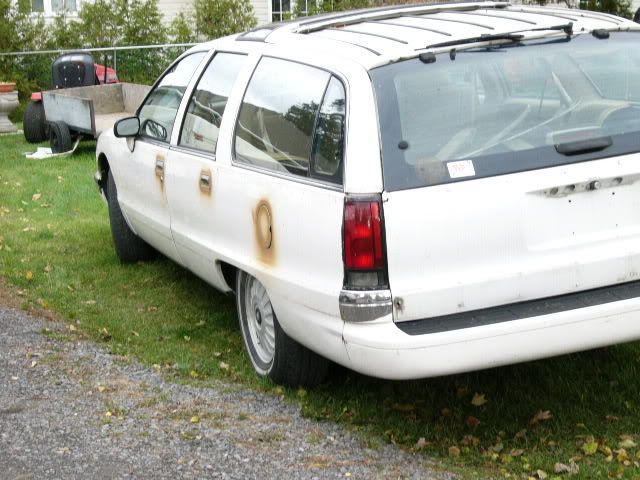 To start off, don't even think of doing this with the front clip in place. The first job was to take out three rolls of masking tape and a felt tipped pen to identify all of the underhood wiring. Then remove all of the sheet metal.
Makes engine and tranny removal soooo much easier.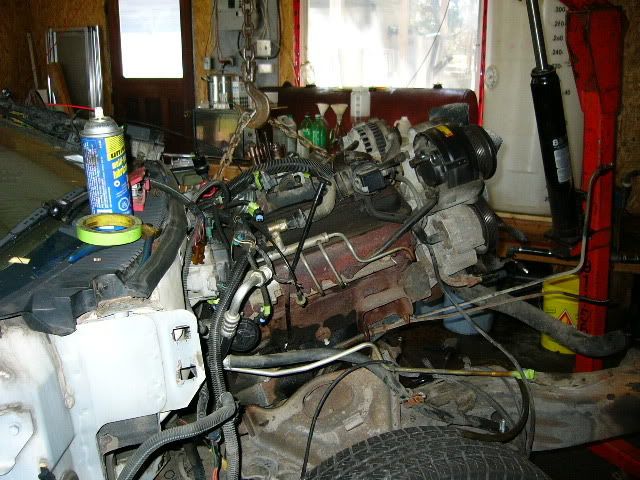 With the engine bay exposed, took the opportunity to support the Eastwood company.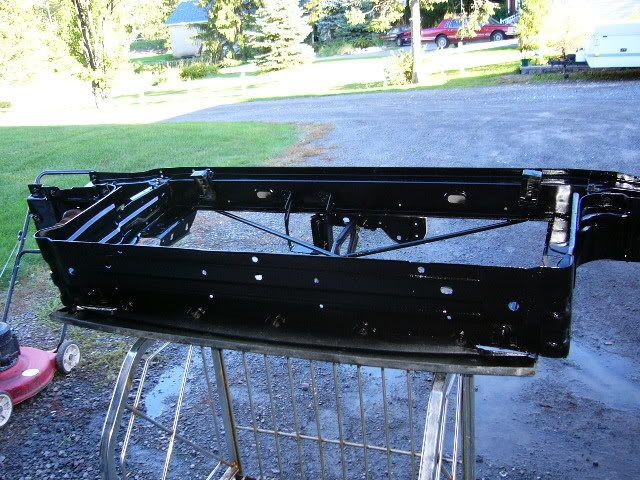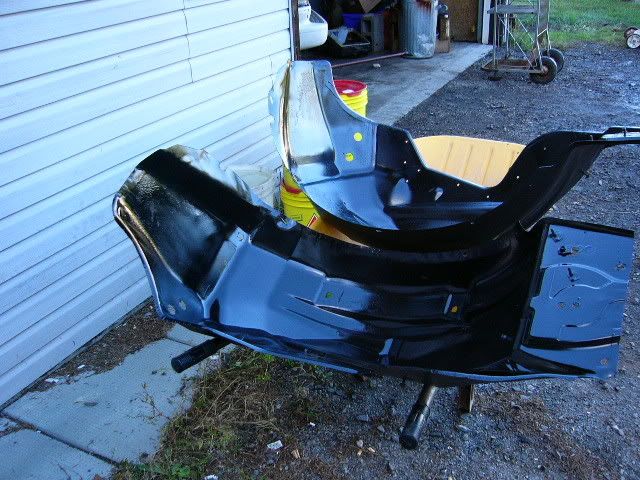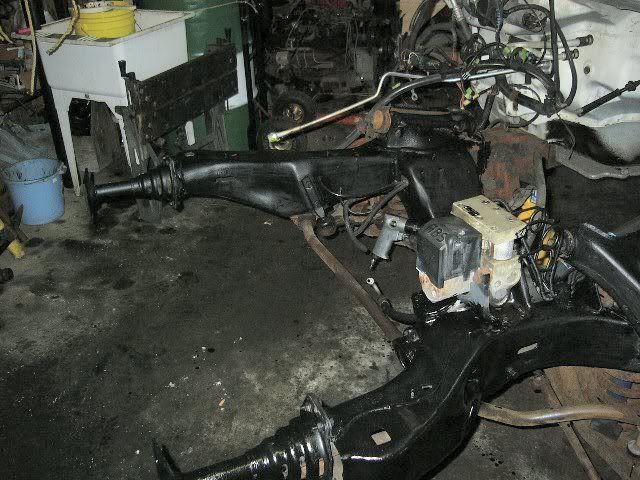 Checked out the 700R4 and decided that all was well but that it needed some mods to relate to the diesel. Diesel governor, high pressure servo, and a diesel torgue convertor. Also installed new throttle valve to restrict the upshift to final 10% of throttle travel.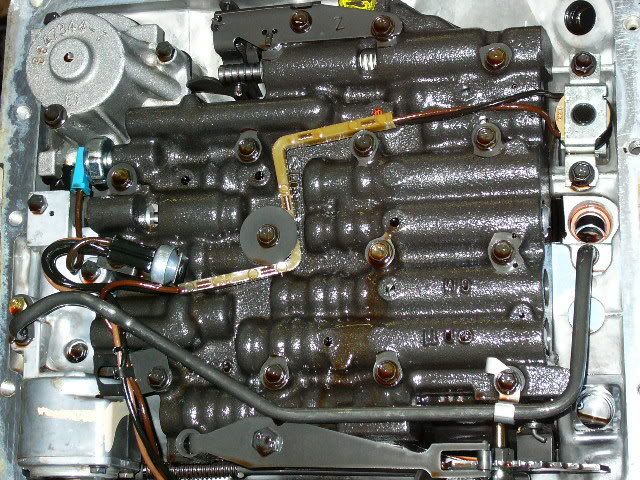 We have a friend in Georgia (Diesel Depot) that specializes in the 6.2/6.5 engines and he supplied us with a known good and tested 6.2 "J" code (non-EGR) engine and all the parts that we thought we would need for the conversion. Ended up with at least 4 different exhaust manifold combinations and 2 intakes. Ended up with a Hummer intake and van type exhaust manifolds (more on the exhaust later).
With the engine and tranny married to each other, the first trial fit.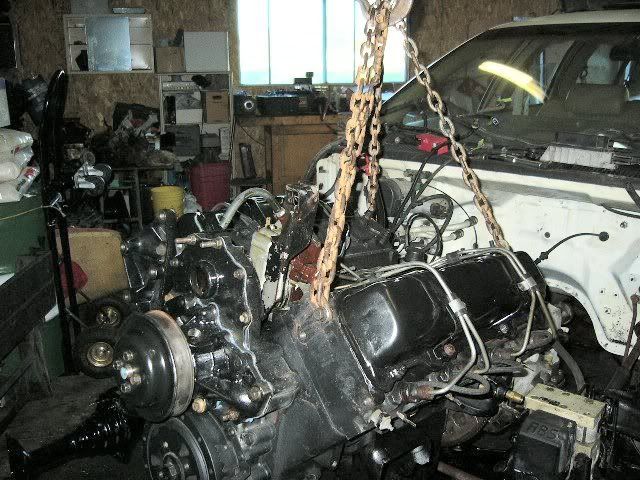 It became immediately obvious that we were going to have to modify the oil pan.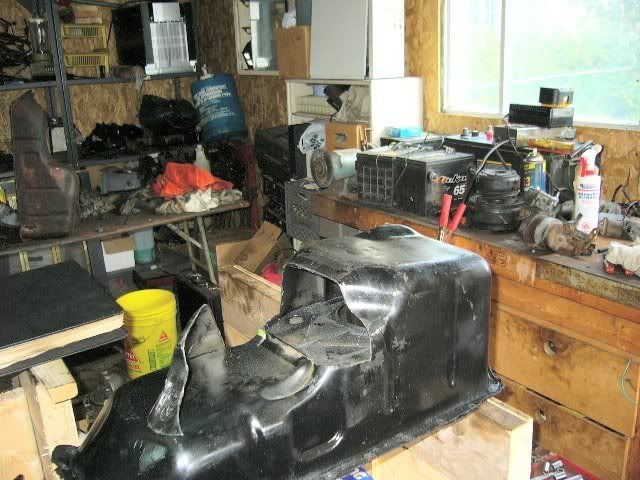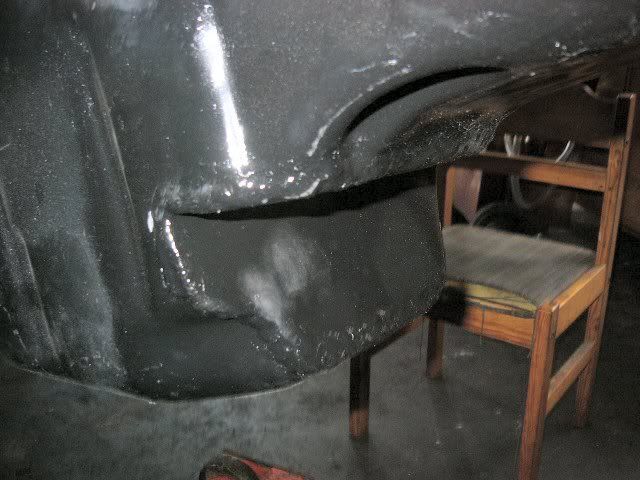 We also ended up referencing out the front crossover to give the starter somewhere to sit and had to have a new power steering pump pulley made up for us (plus we had to re-locate the ABS module). After about 12 trial fits, the assembly finally came home to roost.
After re-assembling the front clip, installing a custom rad (4 core), fabbing up a dual air intake (diesels love their air) and installing a dual electric fan set-up.
Coiled up all the extra wire, performed a CEL delete (took out the bulb) and wired up a switch on the dashboard to lock up the torgue. Batteies are in the rear footwell.
The only thing about this conversion that remains as a major head ache is the exhaust. Don't have any picts as I refuse to crawl under the car, in the snow, just to show you guys how bad a welder I am. The next conversion will include a true dual exhaust (if not turbo charged) but as I originally planned to install a turbo on this, I fabbed up a 3inch single exhaust and a "Y" pipe that crossed over back of the tail stock. Frankenstien doesn't even come close to describing this system.
The end result has performed well beyond our expectations and over the past 4 years have only done routine maintenance and a few mods to try to improve performance. Just had to replace the flywheel (starter chewed a hole in it) and continue having a few issues with the cooling fan circuit. Keep blowing the relay.
Going to have to continue this in another post but this should get you started.
Bill