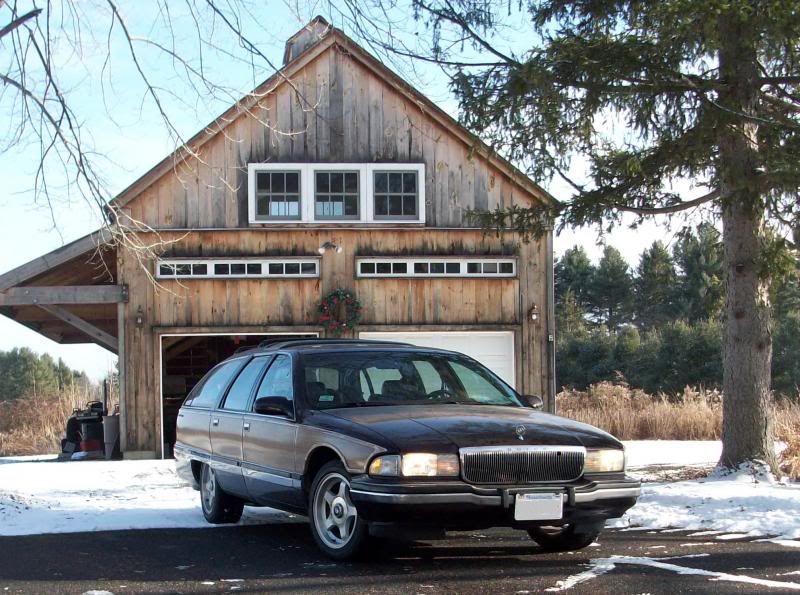 This car has been up on jack stands in my garage since August.  That has been both fun and frustrating, probably much more of the latter than the former.
Some of you here have offered me help when I have posted various questions along the way: thank you.  
Here is a list of what I can remember doing to the car since the summer:
New front rotors, pads, bearings, grease caps.
Fixed broken rollers on two windows so they actually work
Installed K&N filter, F-body elbow, "Home Depot" intake w/ Swiss cheese airbox
Deleted air intake "baffle" i.e. "home plate" and also "first base"
New power steering hoses
Cleaned and painted core support
New plugs, wires, high temp wire sleeving
Deleted AIR pump
Removed heat shields from exhaust manifolds; cleaned and painted them
Had three broken bolts in two cylinder heads fixed
Installed new exhaust manifold gaskets, stainless ARP manifold bolts
Degreased/painted parts of engine/accessories as I disassembled stuff for above work
Installed new intake gasket
Replaced ALL old rotten rubber vacuum lines with high temp silicone lines
Disassembled throttle body, cleaned in ultrasonic tank, reassembled with fresh gaskets
Wrapped EGR tube in high temp sleeving to protect back of intake manifold gasket
Sent fuel injectors to Witchhunter for complete rebuilding
Installed new stock replacement cats
After the cats, ran 2.5" mandrel bent Jegs/Heartthrob system
Removed rear bumper cover and bumper to clean, etch, and paint it
Installed new (hard-ish to find) gas tank straps w/new hardware
New fuel filter
New fuel pump and sending unit
New rear springs (Moog CC625 IIRC) and rubber insulators
New Gabriel front and rear shocks
Cleaned and painted swaybar and installed with new poly bushings and endlinks
Cleaned and painted accessible areas of floorpans to kill/retard rust creep
Removed stock air-shock air pump
Replaced oil adapter gasket to stop nasty leak
Oil change/installed new Fumoto drain valve
That's all I can think of.  I'm probably forgetting some small stuff.
One major PITA issue to deal with later is that the interior lights and PDL don't work.  If I install the fuse for the circuit, it blows right away.  I suck at wiring diagnostics, but I'm going to have to get better.