Hello all, I'm proud to have been selected to be LROM for December 2016! It's an honor I don't think I deserve but I will do my best to uphold the the title for the month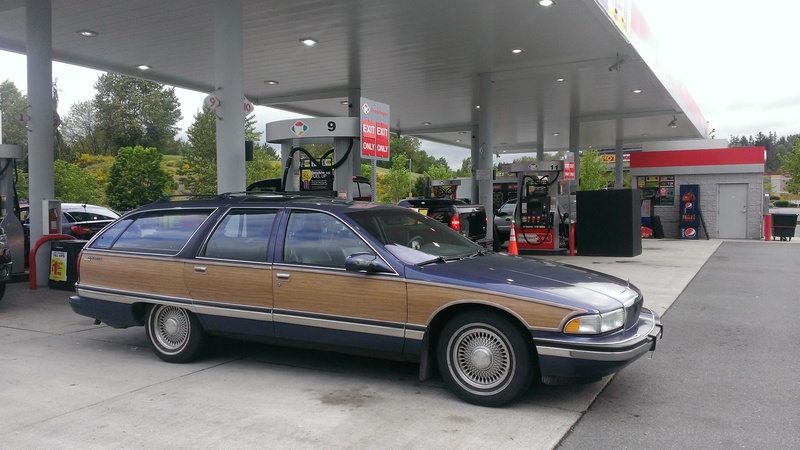 Miss December at brunch in 2014
I'm no stranger to the GM B body. My first car was a 1969 Delta 88 (I didn't have it long) and our family car was a 1984 Delta 88. We also had my grandfather's 1983 Park Avenue (Diesel) which yeah, ok, is a C body. My father also had a 1995 Roadmaster throughout the 90's until he retired.
Personally I like having smaller cars, but a few years ago it started to become a periodic hassle without a larger vehicle. And to be honest I'm no fan of the minivan or SUV. I wanted to be able to occasionally be able to move large items, or to transport more than 5 people, or some combination of the two. Also to have something relatively inexpensive, simple and easy to repair, and something that could be a project car that's also practical. And I want to be able to use it as a long distance road trip car for the family. Sometimes being an engineering type is bad.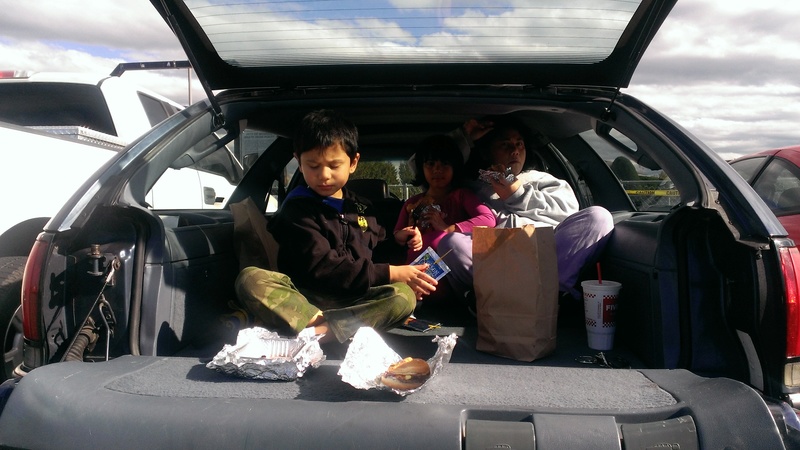 It's also good for indoor-outdoor tailgating!
So I decided that a Roadmaster wagon would be the ideal vehicle. The sad thing is that these cars are not very popular on the West Coast. After watching a lot of auctions on ebay go up into the stratosphere and making a few contacts, I eventually found a guy on Craigslist selling a 95 wagon for a reasonable price. So through the magic of Craigslist I turned a server and some computer parts into a 1995 Buick Estate Limited with 164k miles on it. I drove it back from Yakima, about 170 miles, and parked it in the garage. I think it would be fair to say my wife did not share my enthusiasm for this 20 year old wagon as I tried to fit it into its parking spot!
This car had a real interesting history. It was originally purchased in New York City by a real estate lawyer that supposedly used it for road trips. The story was that he'd blow up an air mattress in the back and sleep in it. I believe that. Then, it ended up in Florida, I assume when this person retired. Then it went to California, and then to Western Washington where a young kid had it, and probably did most of the damage I found. Then out to Eastern Washington when I picked it up and took it home.
It leaked everything from everywhere. On the plus side, with a generous self-replacing undercoating of lubricants the floor pan and frame are remarkably rust-free. The only rust problem I have is the spare tire well which is basically gone and replaced with a rather poorly done fiberglass job. It still leaks back there. Still need to get to the bottom of that.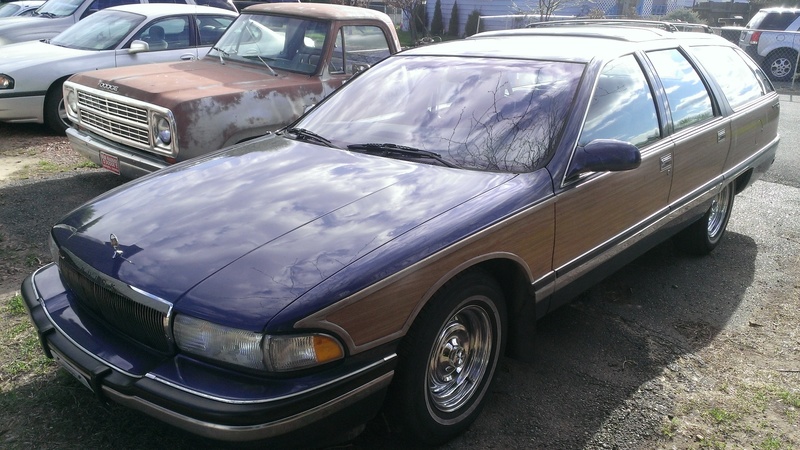 So yeah, it needs a little work.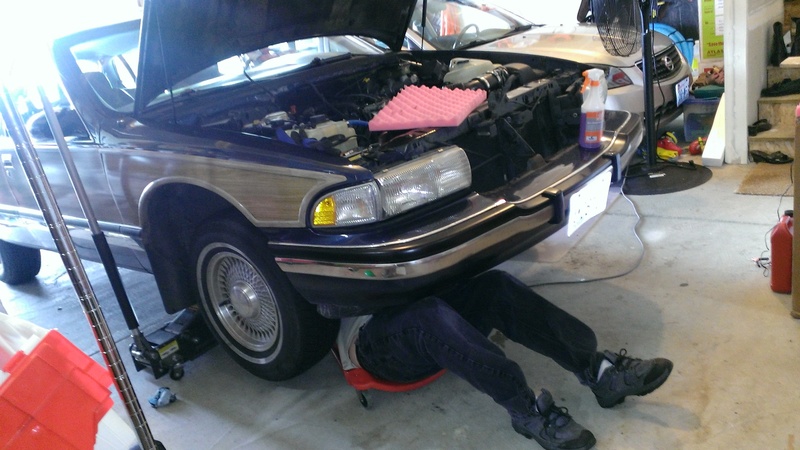 Let the fixing begin! Obviously, it needed a great deal of work. Well, some was needed. Some was induced. Some was done just for safety's sake. And some was done just to do it.
So far, I've done the following:
Rebuilt front suspension, rear springs, shocks and auto-leveling system, rear axles, rotors, drums, brake lines, master cylinder, wheel bearings, tie rods, steering box, power steering pump and lines, engine mounts, intake manifold gasket, EGR system, fuel injectors, alternator, water pump, distributor and ignition, rocker arms, pushrods, valve springs, oil pump, oil pan gasket, radiator, heater core, installed 9C1 heater hoses, mechanical fan delete, door panel repair and replacement, power window repair, fixed the broken rear wiper module, resealed vista roof and roof rack water leaks, probably a lot more that's scattered all over the forums. Oh, yes, and the transmission too.
And not all those repairs went well the first time. Hey, it's a learning experience and helps build character.
There's still quite a number of things to do. I still can't get the steering to behave the way it should, it's "sticky" and doesn't self-center well. That's still bugging me. But, the big project is me starting to build an engine for it. I got a rebuildable core out of a 1995 Police Caprice and I'm going to try my hand at putting together an engine. It's something I always wanted to do and is one of the reasons I got the wagon in the first place.
That's where I stand right now. Obviously I'm here because I really love this car. I take it every year (that it's running) to our charity car show at work and love talking about it and showing it off. It's truly a class of vehicle that no longer exists, and represents an important yet long gone connection to what family transportation was like when I was growing up. It's a role it still excels at, and I hope we can use it and enjoy it for many years to come.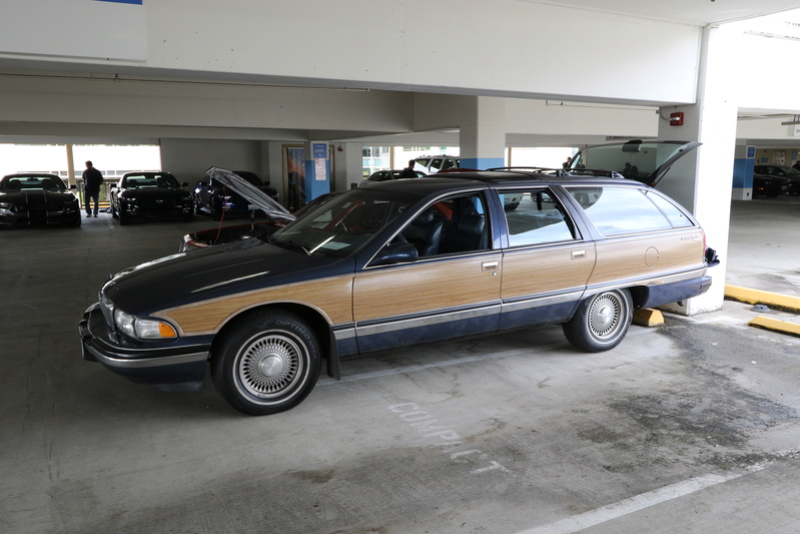 By far the most talked about and enjoyed feature is the third row seating. The little kids love it, and you'd be surprised how many younger adults had never even heard of such a thing!
Lastly, the forum has been super helpful. In getting parts to sharing stories and notes and picking brains about upgrades, it's a resource like no other. I hope I can share what I'm learning and so help others today and in the future.
-Mike