Affiliates
couple of questions
Sun Jul 11, 2021 8:44 am by Buickman1
I was messing around with the wagon yesterday, and ran to the parts store. When I got home I noticed this was missing. Please tell me this is not an impossible to find, one year only item produced during a blue moon in any month with a W in it.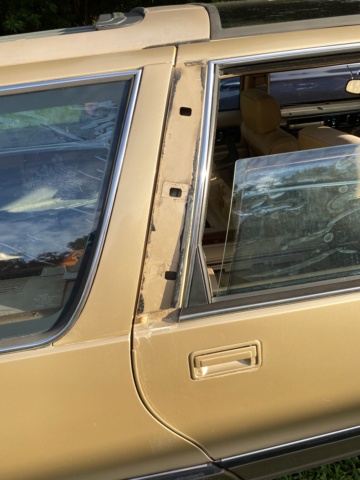 I also found this vacuum line capped off. Any idea what it should connect to?

[url=https://servimg.com/view/20339585/13]


[ Full reading ]
Comments: 11
VATS problems
Fri Jul 09, 2021 12:05 pm by Sprocket
I bypassed the VATS well over a year ago and know for certain that the resistance is in the proper range as it has worked reliably for most of that time. Lately, I have had the issue again. All can think of is that I put the resistors on the other side of the plug and it's loose or adding resistance to the line (it seems like a good clean connection and it tucked up under the dash.

It has …

[ Full reading ]
Comments: 5
2021 - What did you do to your wagon this week?
Sat Jan 02, 2021 7:35 am by Fix Until Broke
On the 1994, I had to break into it.  Stopped to fill up with gas at the Co-Op at ~6:00AM, it's 21F outside with a nice 10-15MPH breeze.  Get out, shut the door, start the pump, get back in to warm up, pump clicks off, get back out, put the nozzle away, get my receipt, all doors are locked with the car running
.  Must have bumped the lock switch when I got out the last time.  Wandered …

[ Full reading ]
Comments: 34
Questions about fuel and brake lines along frame.
Sat Jun 26, 2021 10:16 am by sandalboy692
I sort of messed up by not taking more pictures during disassembly. I took off all of the lines and retaining clips to restore my frame and underbody. Now that it's going back together, it's not completely obvious or fresh in my memory (it's been 1.5 years now). Does anyone have any pictures of their 94-96 RMW lines along the frame that shows the clip locations and orientations? …

[ Full reading ]
Comments: 2
Roof Rack Riv Nuts Completely Rusted Away - Ideas On How to Patch?
Fri Jun 25, 2021 6:29 pm by TheWoodenBubble
I'm working on chasing a leak, found these two bad spots where the riv nuts holding for the roof rack have completely deteriorated.

I'm trying to game plan a way to patch these two spots so I can reinstall new riv nuts - without welding metal patch piece. Any thoughts or suggestions on how I should tackle this?

Moving from SoCal to Washington with no guarantee of having a garage, gotta get it …

[ Full reading ]
Comments: 7
91-96 rear glass hinge alternative
Tue Jun 08, 2021 8:47 am by Buickman1
So when I went to look at my 91 OCC from the guy I bought it from, we were going over the car, and I asked him if the tailgate was working good. Oh ya, it works great, and he proceeds to open the glass when the hinge breaks. The DS was broken at some point before that, since there was a nut and bolt holding that side together. A couple days after buying the Olds, I got around to removing the PS …

[ Full reading ]
Comments: 3
CNC parts you might want
Sat Jun 05, 2021 11:17 pm by Buickman1
I have been a member of the Impala SS Forum for a while and a member posted this.

Hello guys. I have 2 brothers who are my neighbors. They have a CNC machine and are picking up a Hass CNC in a couple of months.
I was wondering if there is any market for CNC parts still or have those days past.
They are making a CNC aluminum trim piece for a custom 69 Camaro SS console I am going to be running
If …

[ Full reading ]
Comments: 4
91 Woody Blues
Fri Apr 30, 2021 9:09 am by RoadKutter
So after driving with no issues for over a year I got some troubles. Granted the car did sit for a lot after being driven daily last year. Working downtown so transit is a much better option and I don't have to pay $15 for parking everyday. Two weeks ago I had a no start problem. Though it was the 3 year old fuel pump, turned out it was the ignition module. Now that that is fixed I'm …

[ Full reading ]
Comments: 22
Statistics
We have 1564 registered users
The newest registered user is MackRX

Our users have posted a total of 147463 messages in 13331 subjects

Who is online?
In total there are 11 users online :: 0 Registered, 0 Hidden and 11 Guests :: 3 Bots

None

Most users ever online was 483 on Tue Oct 15, 2013 12:23 am