Some time ago, I decided to upgrade the red velvet bordello seats in my Caprice to a like-tinted set of leather seats from a Roadmaster.  Posted on the Forum, scrounged junkyards, searched Craigslist, and then one day I get a PM from Tom (Silverrfox103) that there is a junker in Kennebunkport Maine that fits the bill: $700 bucks, only 88K miles, and it has the requisite seats.
I just happen to be on my way from Geneva to RI to visit Mom at the time (94 and still driving).  Kennebunkport is sort of on the way, and so I detoured en route to look at the car.
Met the owner, a young med student, looked at the seats, and they were like new.  It was dark already, for $700 bucks I did not give a hoot what else was going on with the car if it moved, steered, and stopped.  Heck, at 4,700 lbs it's $300 worth of scrap steel alone.  Bought the car without a quibble, and asked the owner to drive it to the Kittery Trading Post, where I could pick it up the next day, courtesy of a lift from a cousin, in exchange for buying him lunch and ammo.
Now, in daylight, the car was not so nice looking.  I'd say it was a Monet...you need to back up until it looks good.  But, with my well fed and armed cousin running interference on my rear bumper (I had no legal plates), we drove carefully to RI, and dumped the car at my Mom's house, with a promise to return to pick it up the following week.  Mom, ever happy to be visited, agreed not to set it on fire.  For one week.
My wife, having endured 32 years of adventures in car buying with me, was still a bit disappointed with my purchase, and declined the opportunity to accompany me to retrieve the car.  She did agree to dump me at the Hertz counter at the Syracuse airport, and waved goodby with the back of her hand as she drove out of sight.  Drove a rental car to RI, dumped it at the RI airport, and called my sister to inform her that the price of getting the car removed before Mom torched it in the back yard was retrieving me from the airport.  Deal!
And so, now with NY legal plates on the car, I drove to the 367 miles west to Geneva.
Then began the process to becoming better acquainted with my purchase.  Out came the seats. Hmmm..... what's that on the floor?  A set of hemostats!  Geeeze... this med student did surgery homework in the back seat.  Oops...there's more.  Little tiny cigarette butts.  Nope...they aren't cigarettes.  WTF!  The hemostat is a roach clip.  
If I'm ever in a trauma center bleeding to death in Maine, I want a good look at the attending surgeon before he starts work.  If he's squinty-eyed, giggly, and eating a big bag of Cheetos, I want another option.
My shop vac now smells like a hookah, but the car was now drug-free and fit for its next phase of life: a parts car at Big Wagon Guys' farm in Ontario as an undocumented alien.  I was hopeful that the car, cleaned of doobies but with only the driver's seat would not attract too much attention at the border (Niagara Falls).
I answered all of the border guard's questions without being a smartass until the last: "Do you have any firearms or drugs in the car"?  Answer: "No, do you think I should go home and get some"?   I get the stare and silence, and then "Get out of here, and enjoy your visit".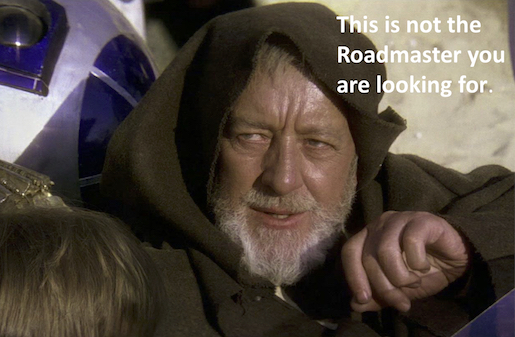 The Force can be used for dodgy border crossings.
Ah yes... without pictures, none of this happened.  As I wrote, the car was not in showroom condition.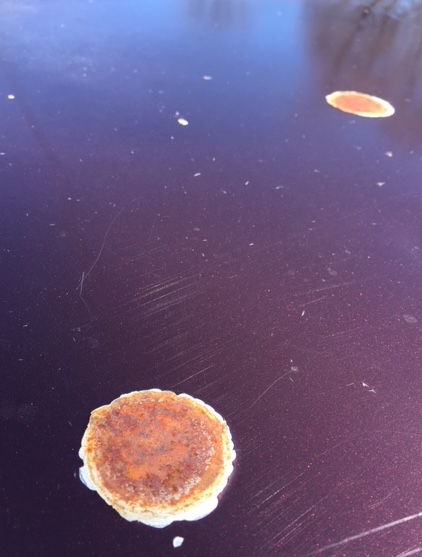 I think this will buff out.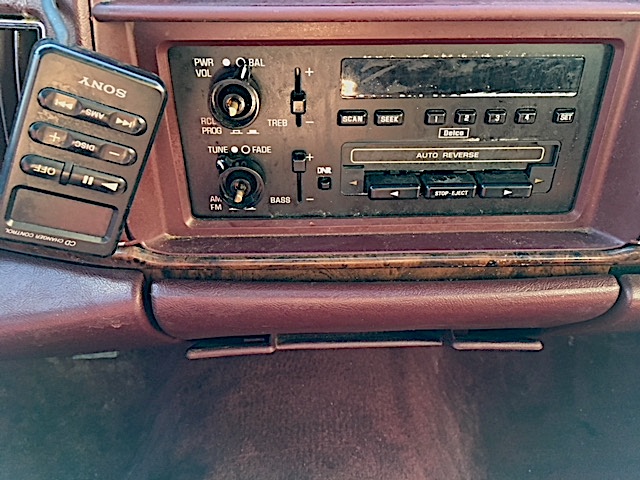 Why waste money on an install kit from Crutchfield?  Just drill a hole in the dash, install the CD changer remote upside-down,  and be done with it.
Remote not releasing the door lock?  Whack a hole in that plastic to convert to "manual".
Golf ball manufacturers learned long ago that a dimpled surface creates a dead air space at the surface and decreases drag.  Incorporating this feature into body panels was brilliant.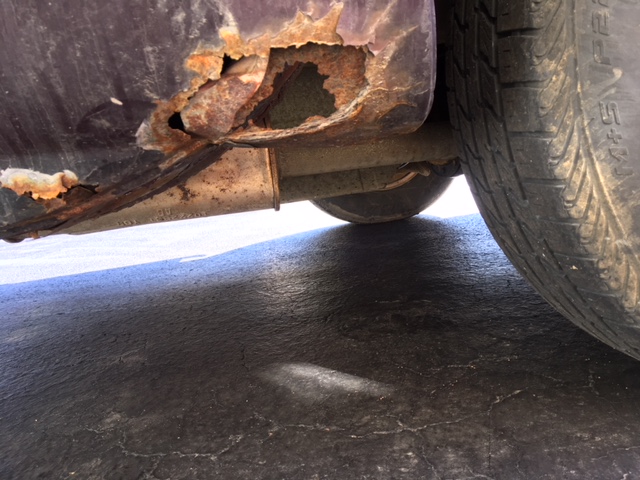 These cars are notorious for those tiny wheel well drains that clog.  No more!  Both drainage and ventilation are greatly improved.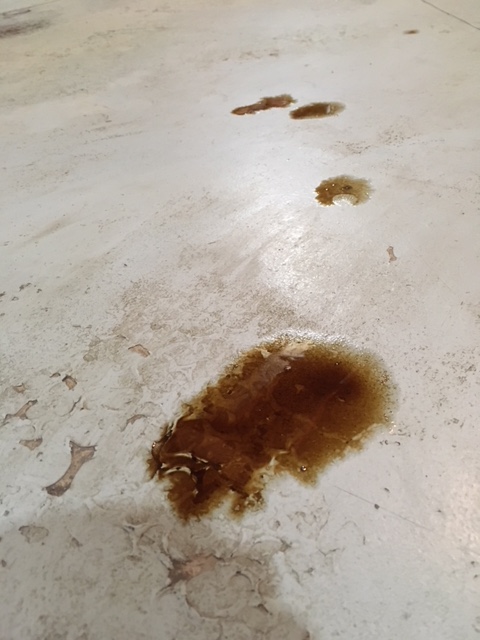 Not only is there flow-through ventilation. This car has flow-through lubrication via a constant feed rear main seal.  This effectively results in a complete oil change every 3000 miles with minimal fuss.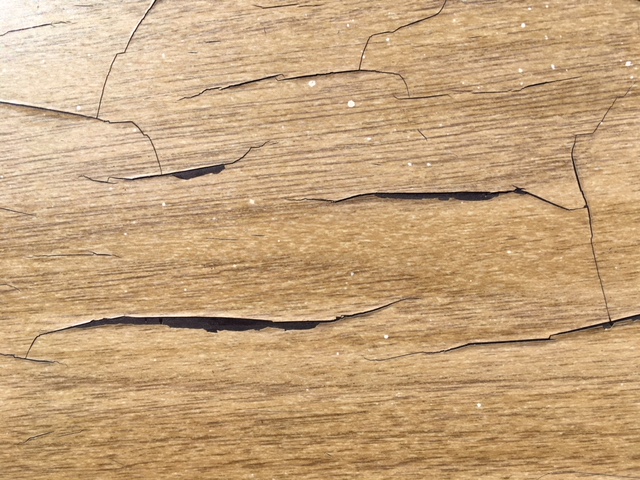 I know some are into changing out the woodgrain on these cars, but really... new wood on a 24 year old car to me looks like some of those Hollywood 80mph face lifts.  I prefer the look of "distressed" wood.  Age gracefully, please.
Something my Caprice lacks is the easy-access port for the bolts on the lower control arms.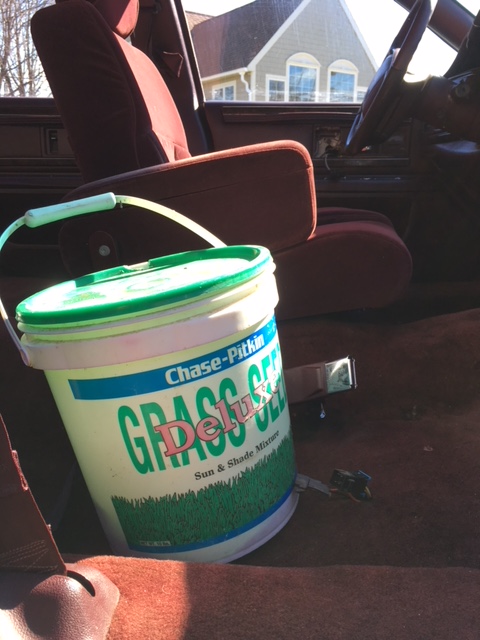 A custom bucket seat was installed for the run to the border.
Wing window leaking?  Goop on some RTV.  Make sure you apply it liberally to the inside too.
Really though, there are heaps of good parts in this... umm... heap.  Most of the beltline trim is there.  The engine and drivetrain, aside from the rear main, runs like a champ (as it should at 88K).  It has a good 3.23 posi rear.  The beltline trim is perfect, although sans rubber in some areas.  Rear glass and defroster: good.  Rear wiper motor: good.  Most interior plastic and door panels and little bits are OK.  It got 21 mpg at 75 mph on a 1000 mile trip, so it's got guts.
The car is now at John P's Home for Wayward Wagon in Ontario, resting peacefully.   If you are interested in partaking of the remains of this now undocumented Canadian, check with John (Big Wagon Guy).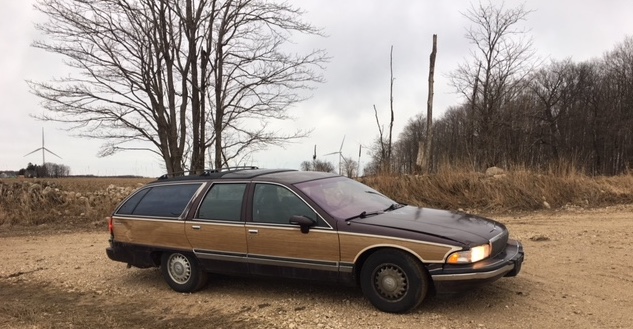 Oh yes... the seats that I transferred to the Caprice!  They look pretty good.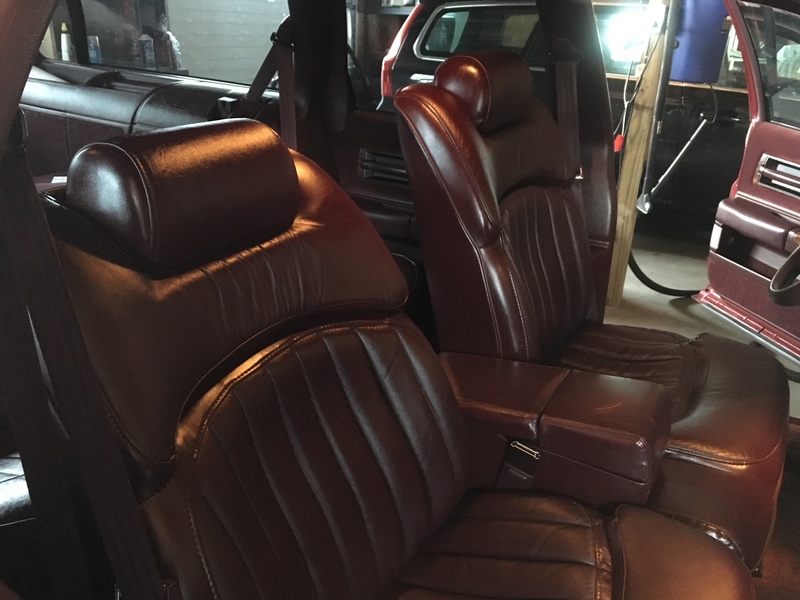 Now I need to find someone who wants the red guts front and rear cloth seats from the Caprice.  They are like new: 55K butt-miles on them, no wear, no stains, no fading, and no rips.  The rear seatback has the headrest mod described for my car and the Viking Roadmaster.  It does not interfere with folding the seatback down.  All motors and adjustments work.  $300 and I'll deliver them between Geneva and points east (MA, CT, RI, NH, VT, and maybe southern Maine), or pick them up at Wagonfest.  Listed under "For Sale" too.