Affiliates
Gear indicator recalibration

Mon Oct 14, 2019 5:12 pm by Walterf
1991 OCC with stock column shifter. Dropped the steering column during radio install. Went back together well but now the gear indicator is one off; Overdrive is showing as neutral and so on through the entire range. Any one know a fix for this?


Comments: 1
Parting the Departed - Jade

Wed Oct 02, 2019 8:17 pm by Sprocket
I know I should probably put in the FS section and will move it when I actually start pulling parts off, but want to lay it out there for the family, if there is something you need/want.

So pretty much everyone on here knows my t56 swapped wagon got totaled out by a stupid girl not paying attention.
I will be finally settling with the insurance company in the next couple days, and as soon as I …

[ Full reading ]
Comments: 2
94 on auction

Fri Oct 04, 2019 9:57 pm by RoadKutter
So a friend of mine sent me this today. We were both blown away by the sell price.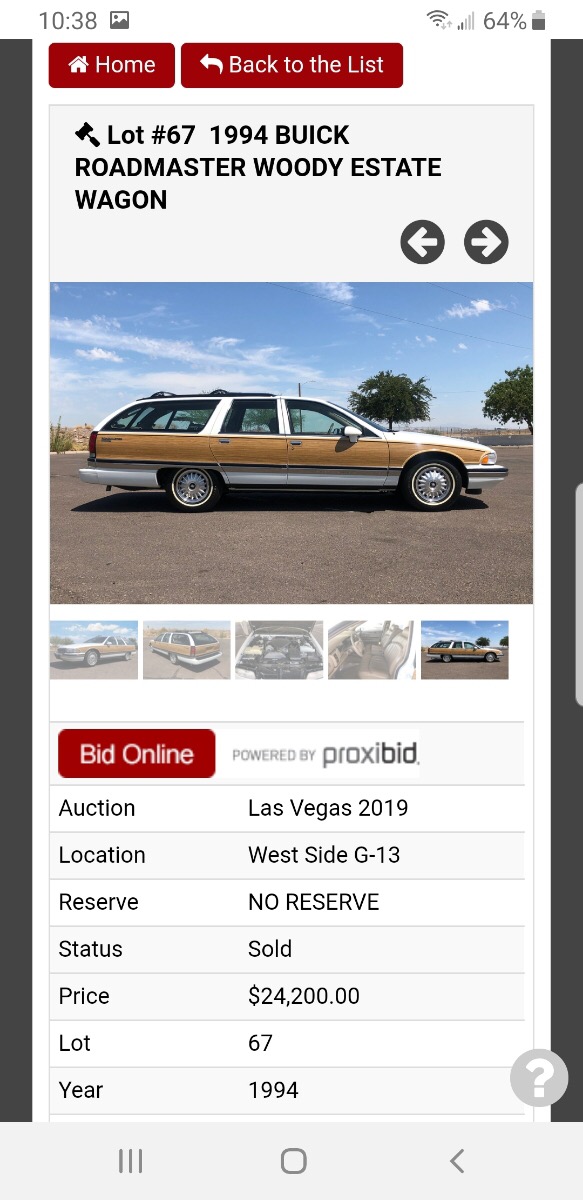 Comments: 6
longroof convertible?

Fri Aug 02, 2019 12:02 pm by guy55
I have seen pics and articles about opening longroof and converting to a sliding flexible roof, here is link to what i am talking about

http://www.slidingragtops.com/Caprice-Folding-Sunroofs.html

does anybody have any experience with this type of product?

thanks, guy55

1995 chevrolet caprice wagon


Comments: 4
Any one here the Lemons racers?

Wed Sep 18, 2019 11:23 am by GMjonn

Hey all
I did a Lemons race at CMP and saw a 95 0r 96 wagon there was wondering if it was anyone here
https://youtu.be/R6QWdtDKMhQ


Comments: 5
Why did they kill the OCC?

Wed May 29, 2019 5:10 pm by jon7190
I was thinking about the odd choices of GM and realized I don't recall hearing a good explanation for why Oldsmobile dropped its wagon. Sales weren't far off from the other 91-92 wagons. Differences were minimal and they were still making the Buick and Chevy, so there wasn't much cost to keeping it around. So, why ax it?


Comments: 14
Vacuum issues?

Tue Sep 10, 2019 11:01 pm by dmg4
The 1996 Fleetwood has developed interesting symptoms just today:

1. Momentary loss of power, bucking at highway speeds, low engine load, flat ground, mild acceleration. Seems to run OK at wide open throttle.
2. Blast of hot air irregularly from dash vents while AC is running.
3. Loss of power assist in power steering when starting after engine off for a few minutes, and then PS returns to …

[ Full reading ]
Comments: 6
B-Body Wagon's in Japan on Instagram

Sun Jun 02, 2019 11:00 pm by 93RMW
I follow a group of B-Body folks in Japan on Instagram. I don't FB or really any other SM but this cross' two big interests of mine so spend some time. They are pretty active and have some nicely kept up wagons. Recently one of them made a trek out to California and looks like they have a formal invite into the inc nation.

Normally not worth mentioning in this forum, however almost all of them …

[ Full reading ]
Comments: 4
Statistics
We have 1321 registered users
The newest registered user is Hemiplagia

Our users have posted a total of 141932 messages in 12643 subjects

Who is online?
In total there are
20
users online :: 2 Registered, 0 Hidden and 18 Guests :: 1 Bot
4oldcars
,
Dirigo Roadmaster Wagon
Most users ever online was
483
on Tue Oct 15, 2013 12:23 am